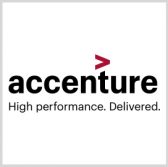 Accenture's federal services business has received the "Above and Beyond" award from a Defense Department group for offering non-mandated benefits to employees who also serve in the National Guard and Reserve.
The Maryland Committee for Employer Support of the Guard and Reserve presented the award to Mark Hild, senior manager at Accenture Federal Services, at an event held Saturday  in Annapolis, Md., ESGR said Tuesday.
AFS is among thousands of U.S. businesses that have reviewed and modified human resources policies in efforts to comply with the Uniformed Services Employment and Reemployment Rights Act.
ESGR noted that there are employers who provide their Guard and Reserve employees with additional compensation and healthcare benefits beyond what the law requires.
Christopher Valdez, an AFS business analyst and Army National Guard member, also nominated the company for the Secretary of Defense Employer Support Freedom Award.