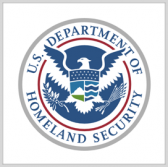 The Department of Homeland Security's Science and Technology Directorate has awarded Small Business Innovation Research contracts to four companies for the exploration of automated vulnerability analysis in the firmware of Internet-of-Things and mobile devices.
The companies will perform initial research through six months under the first phase of the Automated & Scalable Analysis of Mobile & IoT Device Firmware contracts, the DHS said Wednesday.
S&T solicited proposals for technologies that analyze firmware binary code to detect and remediate software and common vulnerabilities, exposures, new zero-day threats and unwanted functions, as well as secure federal and private mobile technology from cyber threats introduced through the global supply chain.
The SBIR contract recipients and proposals are:
Kryptowire's Scalable Analysis of Firmware for Android and iOS – $149,993
RAM Laboratories' Firmalytics – $150,000
Red Balloon Security's Firmware Automated Analysis at Scale with Testing – $149,869
Sekurity's Principled Security Analysis of the Firmware Binaries via Guaranteed Formal Verification and Scalable Dynamic Monitoring – $149,999