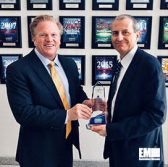 TYSONS CORNER, Va., May 2, 2018 "" Craig Abod, president of Carahsoft, has received the 2018 GCW Readers' Choice Award for GovCon Executives after garnering the highest number of votes among his category in Executive Mosaic's 2018 Wash100 list, GovConWire reported Wednesday.
Abod, who is a four-time Wash100 inductee, earned 832 out of the 24,131 total votes tallied by end of day Monday, April 30th.
The Wash100, now in its fifth year, recognizes the premier private and public sector GovCon leaders as hand-picked by Executive Mosaic"™s election committee. Individuals selected must have demonstrated superior leadership, innovation, reliability, achievement and vision.
"As GovConWire has the largest circulation among GovCon executives, it is an honor to be selected by the publication. However, it is even more impressive to be recognized by your peers as among the top echelon of GovCon leaders.  We couldn't be more thrilled to present Craig with this prestigious award," said Jim Garrettson, Executive Mosaic's CEO and founder.
The total top 10 featured a split between GovCon Executives and Government Executives. In addition to Craig Abod, we would like to congratulate our leaders in the polls:
Sec. James Mattis, U.S. Department of Defense
Raquel Bono, U.S. Navy, director of the Defense Health Agency
Chris Marzilli, president of General Dynamics Mission Systems
Phebe Novakovic, CEO of General Dynamics
Lt. Gen. Vincent Stewart, deputy commander, U.S. Cyber Command
Xavier Williams, president of AT&T Global Business Public Sector Solutions
Lawrence Prior, former president and CEO of CSRA, now part of General Dynamics Information Technology
Amy Gilliland, president of GDIT
Lt. Gen. Charles Hooper, director of the Defense Security Cooperation Agency
About Executive Mosaic:
Founded in 2002, Executive Mosaic is a leadership organization and media company. Executive Mosaic offers highly coveted executive events, breaking business news on the Government Contracting industry, and robust and reliable content through seven influential websites and four consequential E-newswires. Headquarters are located in Tysons Corner, Va.  www.executivemosaic.com
Contact:
Jason Scott
(703) 226-7003
jason.scott@executivemosaic.com