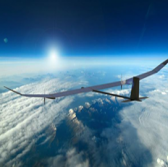 BAE Systems and Prismatic have partnered to develop a solar-powered, high-altitude, long endurance unmanned aerial vehicle that can be used for surveillance and communications operations in remote areas.
BAE Systems said Thursday the Persistent High Altitude Solar Aircraft-35 will be equipped with battery and solar cell technology that would allow the 330-pound UAV to remain aloft for possibly an entire year.
Work on the PHASA-35 UAV is already in progress. The two companies aim to have the first aircraft ready for test flights by 2019.
PHASA-35 is an improvement upon PHASA-8, which BAE Systems and Prismatic also co-developed. PHASA-8, a quarter scale model of PHASA-35, had a successful maiden flight in 2017.