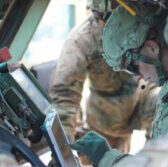 The U.S. Army has begun to seek information on potential contractors that can provide mission support services for the Army Capabilities Integration Center.
A FedBizOpps notice published Friday says the service branch plans to award a potential five-year, $240 million indefinite-delivery/indefinite-quantity, multiple-award task order contract for the procurement of mission support services.
ARCIC is a subordinate organization of the Army Training and Doctrine Command that supports the service and the Joint Force through concept development and integration of doctrine, organization, training, materiel, leadership and education, personnel and facilities.
The Army may launch the procurement as a set-aside program for small businesses or as a full-and-open competition in support of ARCIC-related organizations and activities such as the information integration directorate; fires division; mission command, intelligence and cyber division; and the Joint and Army experimentation division.
The proposed acquisition effort covers four task areas: capability development; experimentation and evaluation; synergy; and information technology and information management support.
Interested vendors have until June 18 to submit their responses to the sources sought notice.