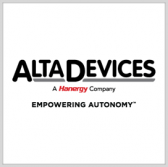 The Naval Research Laboratory has chosen a solar technology from Alta Devices to help power a small unmanned aerial vehicle designed to fly for a minimum of 3.5 days.
Alta Devices said Monday it will provide the company's technology to the Hybrid Tiger project that aims to demonstrate long-range UAV operations by combining solar and hydrogen fuel cells with guidance algorithms.
NRL plans to demonstrate its Hybrid Tiger UAV through multiday flights at 50 degrees North latitude during winter solstice.
The laboratory intends for the group 2 platform to support various applications such atmospheric research, low-altitude communications and search-and-rescue operations.
The Office of the Deputy Assistant Secretary of Defense for Operational Energy and the U.S. Marine Corps' Expeditionary Energy Office sponsored the project.