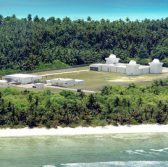 The U.S. Air Force has begun its search for potential sources that could provide operations and maintenance support for the service"™s Ground-Based Electro-Optical Deep Space Surveillance System.
A FedBizOpps notice posted Thursday says GEODSS works to detect, identify and monitor all space objects within the coverage area and deliver metric data to joint space operations center at Vandenberg Air Force Base in California.
The military branch wants potential sources to provide contracted services for the GEODSS platform at three detachments in New Mexico, Hawaii and British Indian Ocean Territory and those services include optical sensor operations; exercise and testing; and logistics management support, according to the performance work statement.
The Air Force plans to award a contract with a basic term, five option periods and a 60-day phase-in period.
Responses to the sources sought notice are due April 23.
Harris currently provides sustainment support for the service"™s GEODSS program under a contract modification awarded in May 2017.