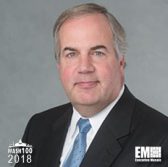 Iridium Communications"™ fifth batch of 10 Iridium NEXT satellites lifted off Friday from Vandenberg Air Force Base in California aboard SpaceX's Falcon 9 rocket and established communications with the company"™s satellite network operations facility after launch.
The launch marks the second use of the rocket"™s first-stage booster that SpaceX deployed in October 2017 to send the third set of Iridium NEXT satellites into orbit, Iridium said Friday.
"It's a unique coincidence that we passed the one million subscribers mark right at this launch, and it's particularly exciting because we've surpassed this milestone earlier than we had anticipated," said Iridium CEO Matt Desch.
Desch, a 2018 Wash100 recipient, noted that the growth in the number of Iridium network subscribers and the launch of new satellites and services seek to build up the company"™s position as a global communications platforms provider and highlight the transformation the firm has undergone in the last decade.
The Iridium NEXT satellite constellation is slated for full deployment later this year and will deliver services such as the Aireon aircraft surveillance and tracking offering and Iridium Certus L-band broadband service.
The launch came three months after SpaceX"™s Falcon 9 took off to deliver the fourth batch of Iridium NEXT satellites to orbit.