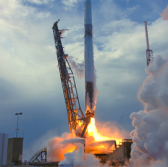 A SpaceX-made spacecraft took off Monday aboard a Falcon 9 rocket from Cape Canaveral Air Force Station in Florida to bring more than 5,800 pounds of crew supplies and research investigations to the International Space Station.
NASA said Tuesday the Dragon spacecraft's launch marks the 14th ISS cargo delivery mission under the Commercial Resupply Services contract.
Dragon is expected to reach the orbiting laboratory Wednesday and astronauts Norishige Kanai and Scott Tingle will use a robotic arm to capture the vehicle.
Scientific experiments aboard the spacecraft include an Earth observatory that will examine severe thunderstorms, Veggie plant growth facility, Passive Orbital Nutrient Delivery System and the Materials ISS Experiment Flight Facility that will study the reaction of materials and coatings to atomic oxygen, ultraviolet radiation and other space conditions.
The space vehicle also contains a Canadian Space Agency-backed study that will investigate the impact of microgravity on bone marrow.
Dragon will stay at the ISS until May before it leaves for Earth with over 3,500 pounds of research, crew supplies and hardware.
The launch came nearly four months after SpaceX's Dragon lifted off aboard Falcon 9 as part of the firm's 13th resupply mission and days after the company launched the fifth batch of 10 Iridium NEXT satellites for Iridium Communications.