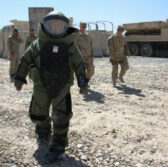 The Safariland Group's Med-Eng business has secured a potential five-year, $15 million contract from the U.S. Air Force to provide equipment designed to help protect the lives of explosive ordnance disposal personnel.
USAF chose the Med-Eng EOD 10 offering after the brand met a National Institute of Justice standard for public safety bomb gear, Safariland said Thursday.
The service branch may order up to 305 bomb suits under the terms of the indefinite-delivery/indefinite-quantity contract.
EOD 10 is designed to comply with the NIJ Standard 0117.01 that covers the fragmentation, optics, impact, blast overpressure, flame and ergonomic areas.
Med-Eng has tested the ensemble against improvised explosive device representative threats.