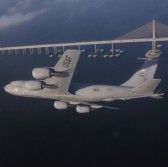 The U.S. Air Force has awarded multiple repair contracts with a potential five-year performance period and $27 million value to Rockwell Collins in support of a tanker fleet's air traffic management system.
Rockwell Collins said Tuesday it will support the global air traffic management components of the Air Force's KC-135 tanker fleet to facilitate the platform's compliance with the mandates for communication, navigation, surveillance and air traffic management.
The contracts include new inertial navigation units, military flight planning with tanker-unique patterns, required navigation performance with full CNS/ATM capability, area navigation, control pilot data link communications and air operations center functions.
The company will also integrate a new flight management system and GATM components into the existing analog autopilot.
Rockwell Collins previously delivered and continues to support the Flight2 integrated avionics system and the communications equipment of the KC-135 aircraft.
The company also initially supported the GATM upgrade program in 1999 that included the replacement of outdated avionics equipment for CNS/ATM compliance.