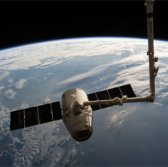 A SpaceX-built Dragon spacecraft arrived at the International Space Station on Wednesday to deliver 5,800 pounds of crew supplies and scientific experiments, Space.com reported Wednesday.
Astronauts aboard ISS used the Canadarm2 robotic arm to capture Dragon at 6:40 a.m. Eastern time.
On Monday, SpaceX launched the capsule atop the company's Falcon 9 rocket from Cape Canaveral Air Force Station in Florida for the company's 14th mission under its Commercial Resupply Services contract with NASA.
The launch involved reused platforms, including the Dragon spacecraft that was initially flown for a resupply mission in April 2016 as well as a rocket booster that supported a cargo delivery to ISS in August 2017.
The space capsule will stay at ISS until June, then carry 3,900 lbs. of cargo back to Earth.