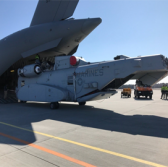 The U.S. Marine Corps and Sikorsky aim to finalize in the coming months a contract for the helicopter manufacturer to produce six more CH-53K units, Reuters reported Thursday.
Col. Hank Vanderborght, CH-53K program manager for the Marine Corps, said the additional order would increase the number of Marines' CH-53K helicopters to 14.
The contract is potentially worth $700 million and will cover aircraft production and support services, which include the establishment of a maintenance facility, the report noted.
The service branch intends to buy 200 CH-53Ks from the Lockheed Martin subsidiary.
Sikorsky secured advanced funds to obtain components and parts for a third batch of seven aircraft and could begin negotiations with the Marine Corps on that contract later this year.