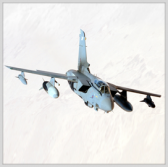 Germany's defense ministry secured proposals Tuesday from the U.S. government that represents Boeing and Lockheed Martin as well as from Airbus for a program to replace the European country's fleet of 90 Tornado fighter aircraft by 2025, Reuters reported Tuesday.
Airbus has teamed up with BAE Systems and Leonardo to offer the Eurofighter Typhoon aircraft for the Tornado jet replacement effort.
The report said the German ministry sought information on the Lockheed-built F-35 fighter aircraft and Boeing-developed F/A-18E/F and F-15E jets in addition to the Eurofighter.
The ministry noted that it will conduct a comprehensive review of data from aircraft makers before it finally decides on the Tornado replacement project.