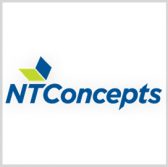 NT Concepts has teamed up with artificial intelligence systems provider Veritone to facilitate the delivery of the latter company"™s AI platform to federal agency clients.
Veritone's aiWARE works to help analysts expedite the analysis of large data workloads and streamline file processing through an ecosystem of cognitive engines, NT Concepts said Monday.
The platform is an open "plug and play" system designed to accelerate the integration of new AI technology components.
"NT Concepts and Veritone will continue to expand the use of AI across enterprise portfolios to enable forward-looking decisions and confidently address critical defense concerns," said Darin Powers, president and chief operating officer of NT Concepts.
Veritone President Ryan Steelberg said the partnership with NT Concepts seeks to advance the delivery of aiWare to government agencies to help them accelerate mission requirements, eliminate content silos and determine new opportunities to ensure the security of citizens.