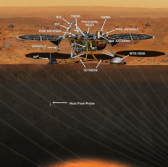 NASA aims to launch a Lockheed Martin-built spacecraft next month on a mission to study the interior and seismic activity of Mars.
InSight is scheduled to lift off May 5 from Vandenberg Air Force Base in California aboard an Atlas V 401 rocket and built to explore the red planet's crust, mantle and core, NASA's Jet Propulsion Laboratory said Tuesday.
The lander will carry a suite of instruments such as the Seismic Experiment for Interior Structure seismometer designed to measure the frequency of tectonic vibrations and  meteorite impacts.
JPL noted the Heat Flow and Physical Properties Probe will examine the heat coming from the red planet's interior and its Rotation and Interior Structure Experiment instrument will monitor variations in the lander's location.
A pair of Mars Cube One satellites will join InSight in the launch vehicle and will aim to collect data about the spacecraft's entry, descent and landing functions.