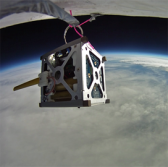 NanoRacks has secured a position on a General Services Administration contract vehicle to offer miniaturized satellite deployment services to federal agencies.
The company said Monday it aims to help government customers deploy CubeSat and MicroSat payloads to perform microgravity research in space and on board the International Space Station through its launch service offerings on GSA's Professional Services Schedule.
Agencies can order the company's services via the GSA Advantage website.
NanoRacks has helped the U.S. government launch multiple payloads to ISS such as military technology demonstration missions and NASA hardware.
The company also deployed government-funded satellites for Educational Launch of Nanosatellites Missions under NASA's CubeSat Launch Initiative.