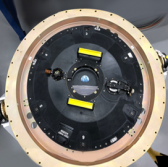 Lockheed Martin's space business, Stratasys and Phoenix Analysis & Design Technologies have partnered to engineer 3D-printed parts for spacecraft NASA intends to use on deep-space exploration missions.
Stratatys said Tuesday it will provide advanced materials to the project such as the company's ULTEM 9085 resin and an electrostatic dissipative variant of the Anterro 800NA thermoplastic.
PADT helps produce thermoplastic components for the Orion spacecraft at Lockheed's Additive Manufacturing Lab.
Lockheed has incorporated the Antero thermoplastic into a complex system located outside of the space vehicle's docking hatch, Stratasys noted.
NASA aims to send an uncrewed Orion with the Space Launch System beyond the Moon as part of the agency's Exploration Mission-1.
Stratasys added the second mission, EM-2, looks to use 100 3D-printed parts on board a crewed spacecraft.