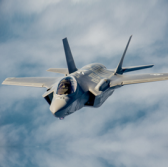 Lockheed Martin has delivered another three F-35A aircraft for the training of Australian pilots at the Luke Air Force Base.
The Australian government intends to procure 72 F-35A Lightning II aircraft and retire its fleet of 71 aging F/A-18A/B Classic Hornets, the country's defense ministry said Monday.
Australia's defense minister Sen. Marise Payne, said the country currently has five of the aircraft platform at Luke AFB for the training of pilots and expects the delivery of another five jets by the end of the year.
She also noted that the latest aircraft are equipped with the final software for the Joint Strike Fighter program that allows deployment of warfighting capabilities such as weapons, mission systems and flight performance.
"Australia is the first international partner to accept jets with Block 3F capability, and this is another key step towards introducing the aircraft into service before its arrival in Australia in December this year," said Payne.