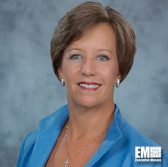 Rebecca Cowen-Hirsch,  senior vice president of government strategy and policy for Inmarsat Government, has said the U.S. government recognizes the role of commercial satellite communications in supporting national security and military efforts through the fiscal 2018 National Defense Authorization Act.
Cowen-Hirsch wrote in an article for MilSatMagazine that there are three components in NDAA that seek to establish commercial satcom as a part of the satcom architecture and one of those is through satcom consolidation.
NDAA advances satcom consolidation through a provision that calls for the deputy defense secretary to create a plan to set up a separate military office that will oversee the Defense Department's national security space efforts by Dec. 31.
"This is a clear recognition that SATCOM has emerged as an area that requires extremely senior-level organizational strength and focus," she wrote.
Cowen-Hirsch noted the alignment of satcom acquisition and operations under a single leader within the Air Force and expanded satcom capabilities as the other two NDAA components.
She also mentioned other government efforts that aim to support the integration of comsatcom as part of a unified satcom architecture and those include the Analysis of Alternatives, Space Warfighting Construct and the establishment of industry"™s presence in the Joint Space Operations Center.