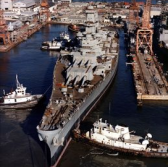 Huntington Ingalls Industries has kicked off a project to reactivate its shipbuilding facilities on the Pascagoula River's east bank as the company aims to prepare for future naval ship construction and modernization programs.
HII said Thursday it will restore the original Ingalls Shipbuilding Corp. site that was damaged by Hurricane Katrina more than 12 years ago.
The company plans to add areas for production of ship assemblies and components and reopen an outfitting pier as part of the two-year facility reactivation project.
"We are fortunate to operate in an area that supports shipbuilding and our military at the city, county and state levels," said Brian Cuccias, president of HII's Ingalls Shipbuilding division.
Cuccias added that Mississippi officials support shipbuilders through workforce training, economic development incentive and community development programs.