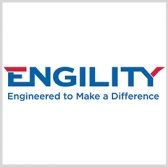 Engility has announced it will introduce a data analytics integration platform at the U.S. Geospatial Intelligence Foundation's 2018 GEOINT Symposium.
MetaSift is designed to help intelligence agencies search, process and retrieve content uncommon to analysts, the company said Thursday.
Amanda Brownfield, senior vice president of the intelligence solutions group at Engility, said the company supports federal customers in various missions "that can range from national security to stopping poaching in allied nations."
The Virginia-based contractor will also showcase the artificial intelligence-based Synthetic Analyst technology designed to help clients make decisions.
Engility added it will demonstrate its process to buy, screen and disseminate mobile applications as broker for the National Geospatial-Intelligence Agency's GEOINT App Store.
The symposium will take place at the Tampa Convention Center from April 22 to 25 .