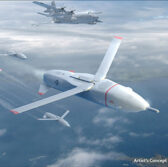 Dynetics has won a $32.5 million contract from the Defense Advanced Research Projects Agency to continue developing a system to deploy and recover multiple small unmanned air vehicles from large aircraft.
The company will aim to produce and demonstrate an aerial launch-and-recovery system under the third phase of DARPA's Gremlins program, the Defense Department said Tuesday.
Phase 3 of the program also includes traceability to an objective system for the utilization and retrieval of various payloads in volley amounts.
DARPA awarded the follow-on contract after a competitive acquisition process and obligated $650,000 in fiscal 2018 research and development funds at the time of award.
Dynetics will perform contract work through January 2020.