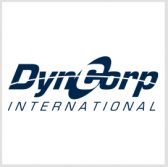 DynCorp International has received contract modifications from the U.S. Army and U.S. Navy worth $24.4 million and $40 million, respectively, to extend the company's base life support and aircraft maintenance services.
DynCorp said Monday it will carry out additional base life support and maintenance services for U.S. forces in Afghanistan under the Army's Logistics Civil Augmentation Program IV contract.
The company provides facilities management, electrical power, water, waste management, hazardous materials management, laundry operations, billeting, material handling equipment operations and maintenance and firefighting services, among others, under LOGCAP IV.
The government services provider also secured a modification from Naval Air Systems Command to extend its maintenance and logistics support for aircraft deployed in the Naval Aviation Warfighting Development Center at Naval Air Station Fallon, Nevada.
DynCorp will deliver organizational, selected intermediate and limited depot-level maintenance and logistics services for various aircraft, such as the F/A-18A-F, EA-18G, MH-60S, F-16A/B and E-2C platforms.
The award covers support for the Navy's Carrier Air Groups and the Top Gun training program.