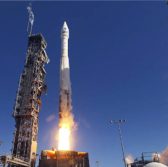 The Defense Advanced Research Projects Agency has unveiled a prize competition that aims to shorten the timeline of payload launch operations.
The DARPA Launch Challenge will require multiple teams to deploy two different payloads from two different launch sites that will be announced only days before the scheduled space flight missions, DARPA said Wednesday.
Participants will compete for the $10 million grand prize in late 2019.
"We want to demonstrate the ability to launch payloads to orbit on extremely short notice, with no prior knowledge of the payload, destination orbit, or launch site," Todd Master, a program manager at DARPA's Tactical Technology Office.
Master added the agency seeks to promote a fast turnover of space launches similar to that of airline operations.
DARPA noted that competitors must obtain licenses from the Federal Aviation Administration to deploy their payloads during the contest.
The agency will pick the top three finalists based on speed, payload, mass and orbit accuracy.