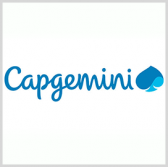 Capgemini has landed a four-year, $79 million contract to support the Texas Department of Information Resources in promoting the adoption of new technologies across the department's customers in agencies, government organizations and academia.
The Paris-based firm said Wednesday it will modify its Multi-Sourcing Services Integrator model to help DIR customers deliver enhanced services to Texas constituents through information technology offerings.
Capgemini will utilize automated and digital platforms that will allow DIR customers to choose from different services providers for IT systems.
The effort will focus on customer experience, analytics, automation, growth, security, tools and integration, service quality and cloud to meet the business needs of DIR and its clients.
"The new MSI model will help IT functions in state, local, municipal and higher education entities become more nimble and able to provide the right IT solutions as customer needs evolve," said Mark Stein, executive vice president and head of service integration in North America at Capgemini.
The business consulting company previously served as the MSI of the DIR for five years to standardize the department's IT infrastructure processes, operations and management of Data Center Services program's service providers.