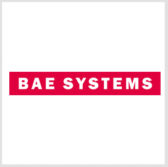 BAE Systems has launched a $14.3 million investment program to develop new technologies for the modernization of the company's Maritime Integration and Support Centre (MISC) in Portsmouth, England.
The U.K.-based firm said Thursday the effort will involve studying artificial intelligence, information and electronic warfare, unmanned vehicles and new weapons to support the production of future combat systems for warships.
The new systems will enable the Naval Combat Systems Integration Support Services engineers of BAE Systems to program naval ships for battle, as well as support their deployments.
The program will also provide MISC with a visualization offering that can help enhance warship support using live tactical data from any U.K. Navy warship anywhere in the world.
BAE Systems' MISC sustains the U.K.'s naval war vessels while researching future combat capabilities.