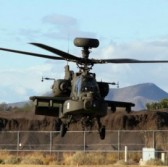 The U.S. Army has completed a preliminary design review of an engine technology General Electric's aviation business developed under a 24-month, $102 million contract awarded in September 2016.
GE said Wednesday the PDR represents a milestone for the technology maturation and risk reduction phase of the service branch's Improved Turbine Engine Program.
The company offered its T901-GE-900 as a potential replacement to the engine that currently powers Boeing's AH-64 Apache and Sikorsky's UH-60 Black Hawk helicopters.
GE demonstrated its engine could integrate with the airframes of both military helicopter platforms during a fit test that was held in late 2017.
T901 incorporates 3D-printed aerodynamic design tools, ceramic matrix composites and cooling technologies.
The Army aims to select one engine manufacturer that will advance to the ITEP's engineering and manufacturing development phase before the end of the year.
GE noted it invested more than $9 billion to mature commercial technologies for integration into the T901 engine and spent more than $300 million to produce and test turboshaft-specific components prior to the PDR.