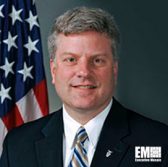 Steven Walker, director of the Defense Advanced Research Projects Agency, has said the budget increase would help DARPA advance the development of new technology platforms designed to build up deterrence and homeland defense capabilities amid competition with countries such as Russia and China, DoD News reported Thursday.
Walker, a 2018 Wash100 recipient, said DARPA has begun development work on hypersonic platforms and expects to begin flight tests in 2019.
"We did receive a budget increase at DARPA and some of the services to do more in hypersonics," Walker said Thursday at the Defense Writers"™ Group in Washington.
"I don"™t think we got all we wanted, but it was a good first step."
Walker, who officially assumed his post in November 2017, also noted about DARPA"™s development efforts in the areas of artificial intelligence, laser technology, advanced electronics and biological technologies, the report added.