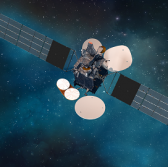 Satellite operating firm Spacecom has selected Maxar Technologies' SSL subsidiary to construct a new communications satellite that will add to the former's AMOS COMSAT fleet.
SSL will build the AMOS-8 that will be designed to provide broadcast and broadband coverage for locations in Europe, Africa and the Middle East, SSL said Monday.
The satellite is expected to operate for at least 15 years, and will employ the SSL 1300 commercial COMSAT platform that has been used for a variety of applications.
Customers will have access to AMOS-8's Ku-band and Ka-band payloads to provide augmented services.
AMOS-8 is scheduled to launch in the latter half of 2020 as per a contract signed between Spacecom and SpaceX.