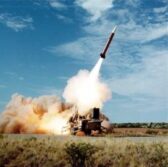 Raytheon and Rheinmetall have partnered to offer a suite of integrated air defense systems to Germany that could potentially rival Lockheed Martin's antimissile system offering for the German military, Defense News reported Friday.
The partnership seeks to propose the Raytheon-built Patriot system in case Germany decides to explore other options for its Taktisches Luftverteidigungssystem program, or TLVS.
Rheinmetall will offer a short-range defense system designed to disrupt aerial targets at up to 9 miles away with a 35-mm gun, while Raytheon will propose its Next-Generation Patriot system to the TLVS program, the report noted.
Patriot employs multiple sensors that provide a 360-degree coverage area and works to engage targets at a range of up to 62 miles.
A Lockheed-MBDA joint venture is pursuing the TLVS contract and both companies plan to build an integrated offering based on the Medium Extended Air Defense System.