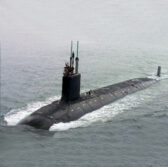 The U.S. Navy plans to commission USS Indiana (SSN 789) at Port Canaveral in the third quarter of this year, Florida Today reported Wednesday.
The report said the service branch will conduct sea trials of the Virginia-class nuclear-powered submarine ahead of the planned commissioning ceremony.
Other locations considered for the event were Groton, Connecticut and Norfolk, Virginia.
SSN 789 is designed for surveillance of land areas, littoral waters and sea-based forces, as well as for anti-submarine, anti-ship warfare and special forces support missions.
The Navy contracted a team of Huntington Ingalls Industries' Newport News Shipbuilding division and General Dynamics' Electric Boat subsidiary to build Virginia-class submarines.