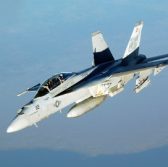 The Indian government has called on the air force to consider both single- and twin-engine fighter jets for a potential $15 billion program to replace its fleet of combat aircraft, Reuters reported Thursday.
A defense ministry source told Reuters the government also asked the air force to assess the Boeing-built F/A-18 Super Hornet aircraft for the program, which initially considered single-engine jets.
India's defense agency plans to release a request for information for the fighter procurement plan within weeks, the source noted.
"We will follow the MoD's lead on their process and will be responsive to their needs if we are asked to provide any information," said Pratyush Kumar, president of Boeing's Indian arm.
Boeing is also competing for the Indian navy's potential $9 billion contract to purchase 57 fighter jets.
Other potential contenders for the air force's fighter procurement effort include Lockheed Martin, Saab and Dassault Systemes, the report added.