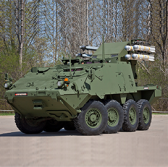 The U.S. Army plans to have a contract in place by August for mission equipment packages to convert Stryker armored vehicles into short-range air defense systems and expects to have prototypes by the spring of 2019, Defense News reported Wednesday.
Col. Chuck Worshim, project manager for cruise missile defense systems at the Army"™s program executive office missiles and space, told the publication at the Global Force Symposium that the service will issue on Friday, March 30, a request for ordnance technology initiatives and then select a vendor platform in June.
"We would evaluate the proposal on its technical approach, cost, all the things, the performance that we are looking for, and they could be a viable candidate moving forward," Worshim noted.
The report cited several companies that have developed SHORAD platforms and those include the team of Boeing and General Dynamics"™ land systems business, Lockheed Martin, Raytheon, Leonardo DRS, Rafael and Hanwha.