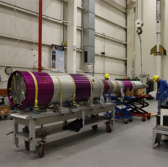 NASA will test a supersonic parachute system for potential use in future Mars missions through the launch of a suborbital sounding rocket supported by Orbital ATK under a contract from the space agency's Heliophysics Division.
Orbital ATK has received the NASA Sounding Rocket Operations contract and will provide mission planning, engineering and field operations services for the test that involves a 58-foot-tall Terrier-Black Brant IX rocket, the space agency said Wednesday.
The rocket will carry the Advanced Supersonic Parachute Inflation Research Experiment 2 payload, deployment mechanism and high-definition test instrumentations and is set for launch on March 27 with backup launch dates slated through March 28 to April 10.
NASA's Jet Propulsion Laboratory manages the ASPIRE program with support from the agency's Science Mission Directorate through the Langley and Ames Research Centers.
The test will take place at NASA's Wallops Flight Facility.
NASA expects the rocket to achieve an altitude of 32 miles within two minutes of flight and the payload to splash-down 40 miles into the Atlantic Ocean from Wallops Island.
Launch details will be posted on the Wallops facility's social network channels and mobile application.