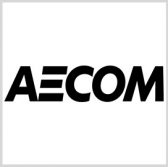 AECOM's URS Federal Services subsidiary has received a potential three-year, $33.7 million contract from the U.S. Navy to provide intelligence, surveillance and reconnaissance support for two military organizations and a task force.
Work covers responsive and real-time ISR support to overseas contingency operations of the U.S. Central Command, Naval Forces Central Command and Commander Task Force 57 in forward-deployed locations through March 2021, the Defense Department said Wednesday.
DoD noted the Navy will obligate $7.3 million in fiscal 2018 operations and maintenance funds at the time of award.
The Naval Air Systems Command conducted a non-competitive process for the procurement effort in accordance with the Federal Acquisition Regulation 6.301-1.