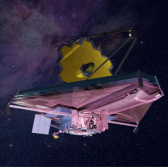 NASA has pushed back from 2019 to May 2020 the launch of its James Webb Space Telescope to give the program's engineers more time to test and integrate the telescope and spacecraft components.
"All the observatory"™s flight hardware is now complete, however, the issues brought to light with the spacecraft element are prompting us to take the necessary steps to refocus our efforts on the completion of this ambitious and complex observatory," Robert Lightfoot, acting NASA administrator, said in a statement published Tuesday.
NASA has begun the final integration and testing phases for the Webb telescope and formed an independent review board to assess the telescope"™s testing, launch, commissioning and deployment efforts and offer recommendations for the agency to set a specific time frame for the spacecraft"™s launch.
Thomas Young, a NASA and industry veteran, will chair the board.
Northrop Grumman will work with NASA to integrate this year the telescope, science payload and spacecraft elements to form the observatory at its Redondo Beach, California-based facility.
The telescope"™s spacecraft element consists of a Northrop-built sunshield and a spacecraft bus and is slated to undergo environmental tests this year.
NASA will collaborate with the European Space Agency to determine a new launch readiness date for the Ariane 5 rocket that will bring the Webb telescope into space.