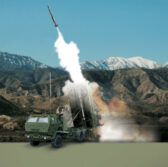 Lockheed Martin and MBDA have formed a joint venture to negotiate a contract to develop the German armed forces' TLVS integrated air and missile defense system.
The TLVS GmbH joint venture is slated to become the prime contractor of the deal, which is under negotiations with Germany's military procurement office, MBDA said Thursday.
MBDA representative Dietmar Thelen and Lockheed TLVS Director Gregory Kee will lead TLVS GmbH from MBDA's office in Schrobenhausen, Germany.
The joint venture will also operate in the U.S., and will base TLVS on the $4-billion Medium Extended Air Defense System development program. MEADS, a trilateral program of U.S., Germany and Italy, was developed by the MEADS International joint venture of Lockheed, MBDA Italy and MBDA Germany.
Frank St. John, executive vice president of Lockheed's missiles and fire control business, said TLVS will provide 360-degree, mobile air and missile defense coverage to identify and disrupt threats.