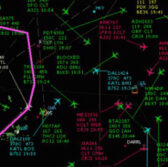 Leidos has collaborated with Airways New Zealand to develop an air traffic management system designed to facilitate exchange of information between airports, airlines and an air navigation service provider.
SkyLine-X works to help ATC personnel monitor aircraft and airspace, manage trajectory-based operations, secure communications and coordinate weather planning activities, Leidos said Tuesday.
The system employs a human machine interface, a time-based flow management technology and the Federal Aviation Administration's Medium Term Conflict Detection platform.
Xu Qian, program management director at Leidos' international ATM business, said the company and its partners have invested more than $500 million to build the system in an effort to help ATM organizations manage en-route, terminal, tower and oceanic control functions.
FAA's MTCD functions as a controller decision support tool designed to cut the risk of active flight path collisions and false alarms.
TBFM is designed to support aircraft monitoring at metering points beyond an airport's flight information region and reduce delays due to no-notice holding and vectoring.
Leidos will showcase SkyLine-X during the World ATM Congress in Madrid and announce an effort to help Kazaeronavigatsia, an ANSP headquartered in Kazakhstan, implement the system.