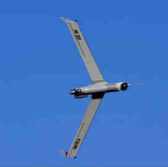 Boeing's Insitu subsidiary has received a $47 million delivery order from the U.S. Navy to provide eight ScanEagle unmanned aircraft systems, spares and support equipment to Afghanistan as part of a Building Partnership Capacity mission.
Insitu will also deploy one logistician field service representative, 16 technical support operators and two site surveys and site activation teams to the foreign country, the Defense Department said Wednesday.
DoD added the order includes ScanEagle UAS sustainment and operations support.
Ninety-five percent of work will occur in Afghanistan and the rest in Bingen, Washington.
The Navy will use fiscal 2018 Afghan Security Forces funds for the award. Insitu is expected to fulfill the order by March 2019.
ScanEagle is designed for intelligence, surveillance and reconnaissance missions.