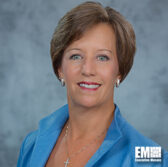 Rebecca Cowen-Hirsch, senior vice president of government strategy and policy for Inmarsat Government, cited the importance of communications to the U.S. military during a panel discussion Wednesday at the Satellite 2018 conference, National Defense reported Thursday.
"There is no mission that takes place in the United States military that isn"™t enabled by communication. It is the ultimate force multiplier," Cowen-Hirsch said at the conference held in Washington, D.C.
She mentioned the "ad hoc hybrid partnerships" between the U.S. military and the commercial satellite communications sector and the lack of a vision for a new satcom architecture since the U.S. Air Force called off the Transformational-Satellite program, T-Sat.
David Myers, president of the communications sector at Peraton, discussed the challenge posed by the federal procurement process to the adoption of new satcom technologies.
Other industry executives who served as panelists include Don Brown, general manager for government services at Telesat Canada; Ken Peterman, senior vice president of government systems for ViaSat; and Moe Abutaleb, president and CEO of Utilisat.