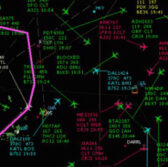 A government-owned air navigation service company in Australia has partnered with  Inmarsat to evaluate a satellite voice communications system designed to supplement air traffic services in areas without very-high-frequency voice coverage.
Inmarsat said Monday that Airservices Australia aims to facilitate direct controller-to-pilot communications over oceans and in remote areas as well as to reduce the weight of avionics systems through the SatVoice communications evaluation effort.
The satellite-based service works to help flight deck crew communicate with air traffic controllers and airline operations personnel on the ground.
Inmarsat will offer updated SatVoice services as part of its SwiftBroadband-Safety platform to the project.
SITAONAIR will supply the connectivity infrastructure for the evaluation and Virgin Australia will provide four Boeing 737 aircraft to demonstrate Inmarsat's SatVoice offering.