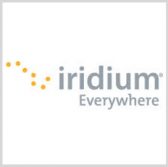 The Federal Communications Commission has approved Iridium Communications"™ request to modify its two licenses to facilitate the deployment of new Earth station terminals with its Iridium NEXT satellite constellation.
An FCC authorization notice released Tuesday says the two modified licenses apply to the company"™s Iridium Certus Earth stations.
Iridium should secure approval from the Federal Aviation Administration to operate its Certus user terminals in the aeronautical-mobile satellite route service, AMS(R)S.
The company should operate the Earth stations in compliance with the "terms and conditions of the Iridium satellite system authorizations under call sign S2110," the notice added.
The FCC document also sets out-of-band emission requirements for Iridium"™s proposed user terminals.