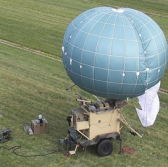 Drone Aviation will provide an additional tactical aerostat system and operator training support to the Defense Department under a potential $1.7 million contract.
The company said Monday it expects to deliver the multimission Winch Aerostat Small Platform to DoD by the end of the third quarter.
The order also covers multifrequency and multiwaveform communications services and  intelligence, surveillance and reconnaissance payloads designed to function in daytime or nighttime operations.
WASP is designed to process day/night videos and secure wireless communications between military users while on a stationary position or in transit.
At least two soldiers can operate the platform built to float at an altitude of up to 1,500 feet above ground level.
DoD uses the WASP to retransmit communications from ground and airborne assets with multimission profiles.