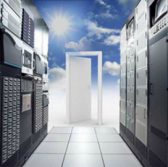 The Defense Department is scheduled to host an event on March 7 to discuss a cloud procurement effort with interested parties in the private sector, DoD News reported Thursday.
DoD's Cloud Executive Steering Group will facilitate the industry day for the Joint Enterprise Defense Infrastructure Cloud program at the Sheraton Pentagon City in Arlington, Virginia.
U.S. Army Lt. Gen. Alan Lynn said at a Defense Information Systems Agency-hosted forum in December that he believes hiring cloud service providers and adopting virtual equipment can help DoD save money.