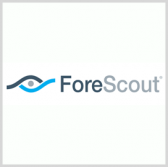 ForeScout Technologies has received Security Technical Implementation Guide validation from the Defense Information Systems Agency for a technology product designed to help government customers discover, manage and classify multiple devices and applications.
The STIG validation for CounterACT follows an agreement signed between ForeScout and the Defense Department through Enterprise Software Initiative program, the company said Monday.
DoD's EIS program helps defense organizations deploy CounterACT to secure internet of things devices across their enterprise networks.
The department adopted the platform in accordance with its "Comply-to-Connect" cybersecurity framework.
CounterACT works to validate and synchronize with other DoD third-party security tools such as the Host Based Security System and Assured Compliance Assessment Solution.
Defense customers use ForeScout's agentless technology to help them manage connected assets at various installations and shared facilities.