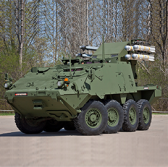 Barry Pike, program executive officer for missiles and space at the U.S. Army, has said the service considers using the Stryker combat vehicle as the basis for its provisional Manuever-Short-Range Air Defense system in response to a SHORAD capability gap identified in Europe in 2016, Defense News reported Thursday.
"At this point it"™s going to be Stryker-based"¦ Strykers are kind of across the Army in a lot of different formations," Pike told the publication Wednesday at an Association of the U.S. Army-hosted missile defense forum.
He said the service branch expects the first Stryker-based SHORAD battery to reach initial operational capability by fiscal 2020.
"The effectors and sensors that go on [Stryker], we probably still have some time to figure out exactly what that configuration will be, but we are assuming there will be some mix of electronic warfare, guns, missiles and potentially lasers over time," Pike added.
The Army hosted a SHORAD demonstration in September 2017 at White Sands Missile Range in New Mexico and some of the companies that participated in the event include Boeing, General Dynamics, Israel-based Rafael and South Korea-based firm Hanwha.
Other companies that seek to address the SHORAD capability gap include Orbital ATK, BAE Systems, Oshkosh, Raytheon and Lockheed Martin, the report added.