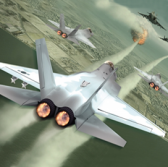 A United Technologies Corp. subsidiary has secured a contract to provide and install environmental control systems aboard the Korea Aerospace Industries-built KF-X fighter aircraft.
UTC Aerospace Systems said Tuesday its environmental control platform is an integrated system consists of air conditioning, liquid cooling, cabin pressurization and bleed air control components.
UTC will also supply flow control valves and air turbine starters for KAI's fighter jets.
KAI aims to produce at least 100 KF-X aircraft for South Korea's air force with plans to begin deliveries by mid-2020s.
UTC has been providing airframe, air turbine starters and environmental control systems for KAI's T-50 trainer jets, TA-50 and FA-50 light-attack aircraft.