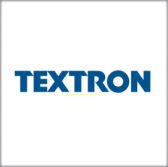 A Textron subsidiary has received a potential five-year, $10.9 million contract from the U.S. Air Force to repair components of a technology platform used to test military combat aircraft systems.
Textron Systems will perform repair work on AN/USM-670 Joint Service Combat System Tester parts under the sole-source contract, the Defense Department said Tuesday.
JSECST is designed to test and fault-isolate aircraft electronic warfare, radio frequency, microwave and avionics systems.
Contract work will occur in Hunt Valley, Maryland, through February 2023.