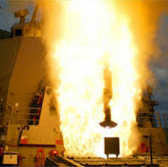 The State Department has cleared Finland's request to purchase shipborne vertical launching systems, equipment and support services under a potential $70 million foreign military sales deal.
Finland asked to buy four Mk 41 Baseline VII strike-length VLS units, spares, handling and test equipment, operator manuals and technical documentation from the U.S. government, the Defense Security Cooperation Agency said Tuesday.
The department identified Lockheed Martin as principal contractor on the sale.
DSCA noted that Finland will use the Mk 41s aboard four new corvettes that will make up the Finnish navy's Squadron 2020 fleet.
The FMS agreement will require the deployment of up to 17 U.S. government and contractor representatives to provide in-service assistance over a 10-year period.